Objective
Japan is finally shifting away from cash.
More and more stores allows "cashless" payments.
Cashless payment is way better than cash with its convenience and rewarding system.
If you're not sure on which cashless payment to use, consider the following:
most of stores you often visit supports the payment method
large return ("cashback") from rewarding system
convenience
My recommended payment method from May 2020 to May 2021 is combination of LinePay and LinePay Credit Card.
Why LinePay and LinePay Credit Card?
Line has a rewarding system so called "PointClub".
https://pointclub.line.me/ja/pointclub/
You will receive higher return and coupons as your rank progreses.
| Rank | Return | Coupons | How to acquire |
| --- | --- | --- | --- |
| Regular | 1% | 1 | Everyone starts here |
| Silver | 1.5% | 3 | Accumulate 100 Line Points in 6 months |
| Gold | 2% | 6 | Accumulate 500 Line Points in 6 months |
| Pratinum | 3% | 10 | Accumulate 5000 Line Points in 6 months and possess LinePay Card |

This Return Rate is applicable for user with "Line Charge&Pay" in LinePay.
In LinePay, there's two methods to add cash to your account.
One is transfer from Bank Account and the other is "Line Charge&Pay".
Essentially "Line Charge&Pay" is a linkage of LinePay Credit Card and your Line Account. Cashes will be withdrawn from the card in adhoc manner.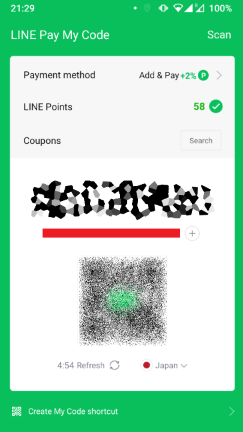 Above is a screenshot of LinePay screen which you show to cashier whwenever you make a payment.
You can see that I have selected "Add&Pay" (which is "Line Charge&Pay") as payment method, and next to it is 2% (because I am currently on Gold Rank).
This 2% or 3%, is the amount of Line Point you will receive in your Line Account as you make purchase.
Example: Lets say you are on Rank Gold. When you spend 3500 yen at shop, you will receive 70 Line Points (3500 * 0.02).
Each Line Point worths 1 yen and can be used on next purchase to subtract the amount you pay with points.
In screenshot above, you can see that "Line Points" row has checkbox enabled. This indicates you'd like to consume the Line Points shown when making purchase.
If you are on Pratinum Rank, you can think that every item you purchase gets 3% deducted from it's price!
Reward Coupons
You can exchange your reward coupon with the discount coupon for stores listed in "Reward Coupons" screen.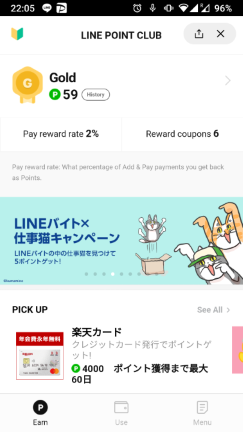 In above screenshot, you can see that I have 6 reward coupons. Tap the text "Reward Coupons", and you'll be taken to the screen with list of discount coupons.
"Reward Coupons" is exceptionally good and it's a MUST for LinePay user.
Whenever discount coupon is applied, it does the deduction in LinePay.
This means, you can combine with coupons or discounts which the store has prepared!
Example: Rock up to Drug Store, SunDrug. Prepare voucher in SunDrug app and show to cashier to get discount applied to item you're about to purchase. Then, make a payment with LinePay with discount coupon applied to get additional discount. (If you have Rakuten Point, you can also accumulate it by showing the account barcode to cashier during payment).
NOTE: Redeemed discount coupon can only be used once. The coupons listed in "Reward Coupons" will refresh every start of the month.
You can check if the coupon is applied or not in the Payment Screen (first screenshot above). The row "Coupons" will show the coupon which currently is applied. If none is applied, "search" will appear next to it.
LinePay Credit Card
As stated earlier, you can only receive Line Points in purchase by using "Line Charge&Pay".
"Line Charge&Pay" is only applicable to user with LinePay Credit Card linked to your Line Account.
To get a juice out from this Rewarding System, you must apply for one.
However I should state another benefit which you gain from using LinePay Credit Card.
Until April 30th 2020, you can earn 3% of Line Points in return for purchase made by the credit card.
LinePay is QR or Barcode based payment and stores that allow this type of payment is rather less compared to Visa.
So if the store does not allow QR or Barcode, use your credit card (Visa) to conduct the payment and acquire Line Points!
NOTE: the annual fee for this credit card is 1250 yen, however this is waived for the first year. Also fees for following years can also be avoided by making payment with the card at least once in that year.
Bonus - MyNaPoint
You can link your LinePay with MyNaPoint to receive 25% of Line Points (capped to 5000 points) in purchases.
More information about MyNaPoint can be found here.